Chet Lindsey
April's Article Feature giving you déjà vu?
Chet Lindsey and his 1972 Chevy are not only turning heads for the month of April but are also heating things up on the cover for 2021.
Chet lives and breaths trucks and all things automotive. Chet was born in Sulpher Springs, TX and moved to College Station, TX when he was 16. His first truck? A 1972 Chevy truck that spent quite a bit of time in the shop. So much so, that Chet began working at a local garage. What started as a job inspired by his first truck, turned in to a career.
Chet now owns and operates his own automotive repair shop. Chet has 2 sons, who he also raised in College Station.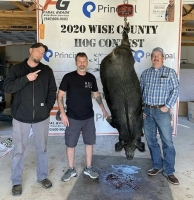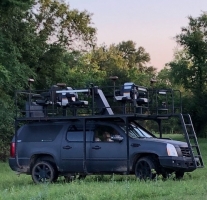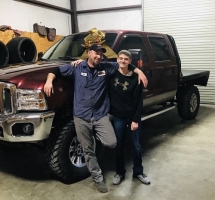 Chet also likes to spend his time hog hunting. Southern Night Stalkers is a business owned by his friend and they provide guided hunts, donate benefit hunts, and compete in any hog hunts they can. Chet was also a part of a building their one of a kind "Pig Rig". It has an upper platform with seating and equipped with top drive.
When it was time for Chet to start his own project, he took it back to where it all started for him. He knew he wanted his first build to be a 1972 Chevy. So, his search began. He found a 1972 Chevy long bed with all white interior and knew that was the truck he had to have. He brought it home from Oklahoma and was ready for phase 2 to begin.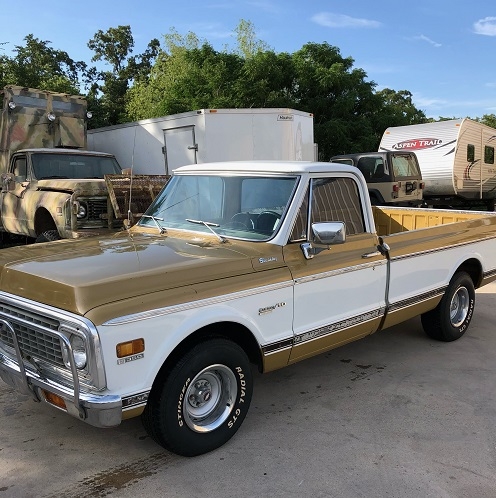 In November of 2018, Chet made the trip to Las Vegas to attend SEMA and meet with the crew at GSI to talk about how they could help bring his vision for his build to life. His initial plan was to go with a GSI front end kit and back half. After talking with the guys, Chet decided he had to have a full chassis. In April of 2019, Chet's chassis arrived and was ready for the next phase. Over the next 10 months, the truck came together piece by piece.
February 2020 the truck was complete and made it's first appearance at Lonestar Throwdown. This is Chet's favorite show. But not because it was the first debut of his truck. Chet says his favorite part about the shows and his entire build process has been the people he has met along the way. LST 2021 was a busy time for him, but he made sure he got his truck there, even if it was only for a few hours. He said it was worth it to be able to see his friends and the GSI crew.
Chet says there is more to come from his '72 Chevy and he is already looking at his next project, which is going to be a '72 K5 Blazer. So be on the lookout for what's next and if you get a chance to see him out and about, stop and check out this awesome build!
Be sure to leave him some comments or ask questions!