2021 Archives
Posted On Jul 1, 2021
"The 55 Crew"
We are officially to the second half of the year. If you have been religiously keeping up with your 2021 GSI Calendar then you have already gotten to enjoy our July feature truck for 31 days. But we can promise that you haven't seen it like this yet!
Owner and builder, Dan Smalley has been turning heads with his custom built 1955 Chevy Crew Cab since the project's completion in early 2020. The automotive scene has always been a huge focal point of Dan's life. Dan was raised in Jackson, California where his parent's own a small power equipment business.
Dan always loved vehicles but it wasn't until high school that his interest was truly sparked for the building process. His dad had a '57 project car that they worked on in their garage. His dad wanted to restore the truck to original. Dan was more interested in the Mini Truck scene during this time. Even though the truck was not Dan's style, it was more about the time he and his dad spent together in the shop working on things together. Dan had multiple other projects of his own including a 1930 Model A, and a Toyota truck.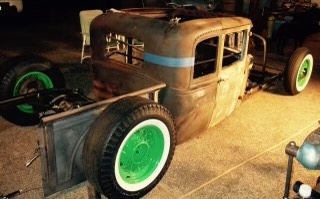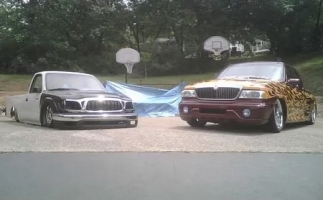 After high school, Dan attended WyoTech in Sacramento, then returned home and went right to work for Full Circle Restorations. This local shop specialized in high end restorations on classic vehicles. Although they did chassis fabrication, the majority of their builds had little customization. Dan quickly realized that he was not sure that this was where he wanted to be in his career. Although he knew he would learn valuable skills and be able to gain experience at this shop, restoration was not the area that he had a passion for.
After his time at Full Circle Restoration, Dan was the first employee for Lucky 7 Speed Shop, a locally owned shopped started by his friend, Rob. Dan worked with Lucky 7 Speed Shop for close to 3 years and then decided to take a break from the auto scene and worked for his parents at their equipment business. This break was intended to help Dan figure out exactly where he wanted to be and what route he wanted to take to get there. He might have intended to take a break from the auto scene but ended up still working on cars in the meantime out of his parent's garage.
Dan stayed so busy during this time, that he eventually decided he needed more project space and time to dedicate to these projects. This was the start of Pure Metal Works. Dan moved in to his current location about 5 years ago and has been there since. Pure Metal Works was started with the intention of fabricating custom decorative furniture and gates. But having built a relationship within the community, he had many custom auto clients that followed him on this new business venture.
Dan has spent much time putting together custom projects for clients and helping them bring their visions to life for their own vehicles. And now it was Dan's turn. The '55 Crew" was his definite dream truck. The 55-59 Crew Cab has always been Dan's favorite body style. When it came time to start his own project, he knew this was what he wanted to build. The biggest challenge for Dan was that he wanted a 4 Door body and this was not something factory produced within the 55-59 body style. Dan knew he would either have to collect parts to fabricate one on his own or find a "Coach Built" truck. He ended up finding a Coach Built truck listed on eBay 2 weeks later. This gave him a huge head start on the truck. He had a rendering of the truck created and this gave him a basis of what his dream truck goal was.
Dan wanted to completely build the truck from the ground up. He sent his rendering to GSI. This was around the time GSI released the full air bag frame. Even though Dan's shop does similar things, Dan said that "He already loved the quality and set up GSI was offering and he didn't see any reason to try and reinvent a wheel that was already there with such great craftsmanship and quality". He worked closely with the crew at GSI and was able to get his truck sitting just right on his custom-built full air ride frame.
"The 55 Crew" was sent to Oregon to be acid dipped so Dan could start with a blank canvas to see exactly what his blank canvas would be. This revealed quite a bit of body work that was all completed by Dan and his crew at Pure Metal Works. This truck build was meant to be different, one of a kind, and to showcase exactly what Dan and Pure Metal Works was capable of. With the exception of the frame, paint, and upholstery, everything on "The '55 Crew" was completed at Pure Metal Works. All of Dan's designs and renderings were brought to life on this truck.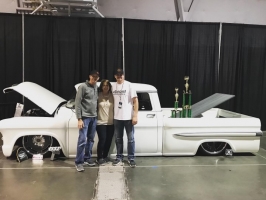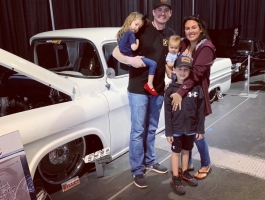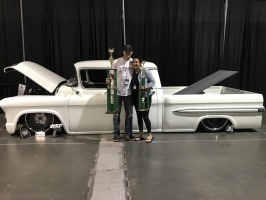 Dan's family has been a huge part of the process as well. His wife of 5 years, Marisa, has been extremely supportive. They have 3 children, 1 boy and 2 girls, who have also been a part of the experience, attending shows and supporting their dad. Dan is still very close with his parents. His family lives about 5 miles from them. They all enjoy being able to spend time together and it is definitely a family affair. They have attended different shows and events with him and been able to be there to support him and celebrate some of the different awards the truck has won as well.
Make sure to give Dan and "The 55 Crew" a shout out in the comments section and be on the lookout for more projects coming from Dan and his crew at Pure Metal Works.