GSI Shop Experience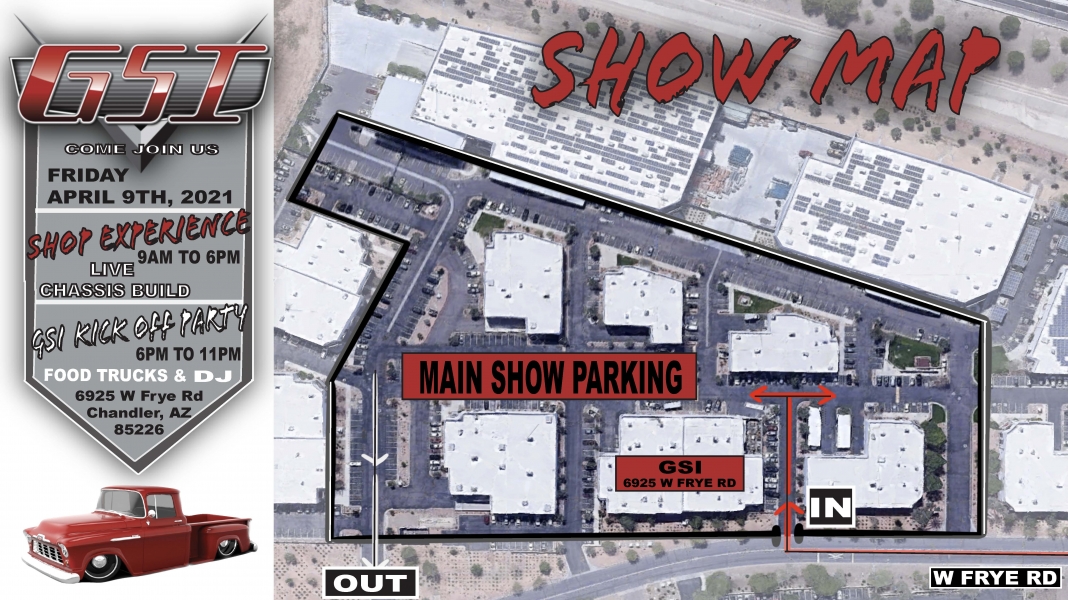 We will be hosting out First Annual GSI Shop Experience to Kick Off the Pro Touring Truck Shootout!
GSI is opening the doors to a unique shop experience. Come by and learn what we do everyday.
Please see the MAP above for entrance and exits to our shop!
9am to 11am:
Front Kit Install on a Squarebody (Everyone welcome to get involved)
11am to 12pm:
Lunch Break (Food Trucks will be onsite)
12pm to 6pm:
Continue Suspension Install on Rear Kit
6pm to 11pm:
Pro Touring Truck Shootout Kick Off Party Car Show
8pm:

TOP 20 Awards Announced
TOP 20 Awards: (Rules to Enter)
-Must be Registered for the Pro Touring Truck Shootout Truck Show
-TOP 20 Winners will be parking together Saturday and Sunday at PTTS
-All years Show Trucks Welcome (Chevy, GMC, Ford, Dodge)
-

FREE

Registration for GSI Truck show (Friday Night)
-Must be Registered and parked by 7:00pm to qualify
Come on out to the Shop and help us kick off the Pro Touring Truck Shootout right!
Shop Experience & Kick Off Party are located at:
GSI Machine & Fabrication